Mastermind-G-mind
A downloadable mastermind for Windows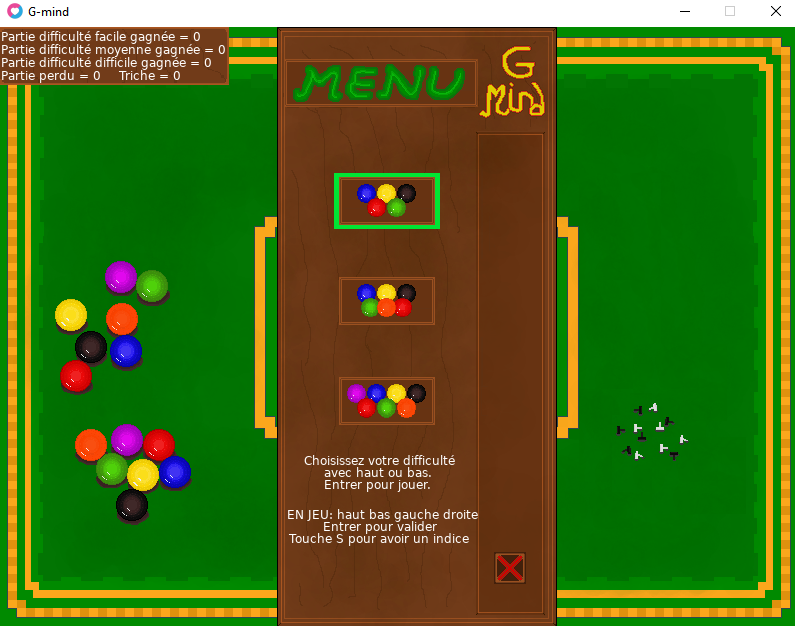 Projet Gamecodeur 2022.
C'est un mastermind. Vous avez 5 pions de couleur à replacer dans le bon ordre, chaque fois que l'un d'eux est correctement placés, un pion de confirmation noir apparaitra, si il est mal placé se sera un blanc.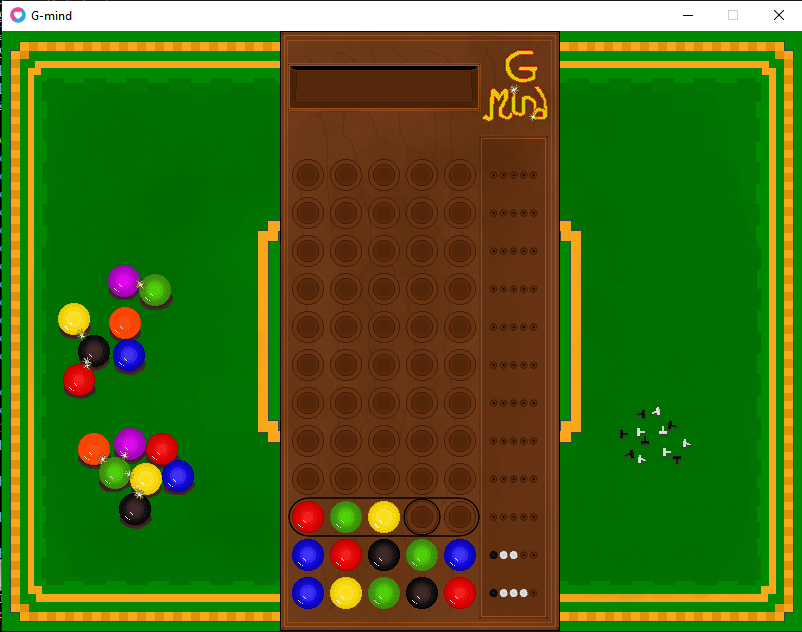 Le jeu propose 3 niveaux de difficultés et se joue sur 12 tours. Niveau facile : 5 couleurs, Niveau moyen : 6 couleurs, Niveau difficile ; 7 couleurs.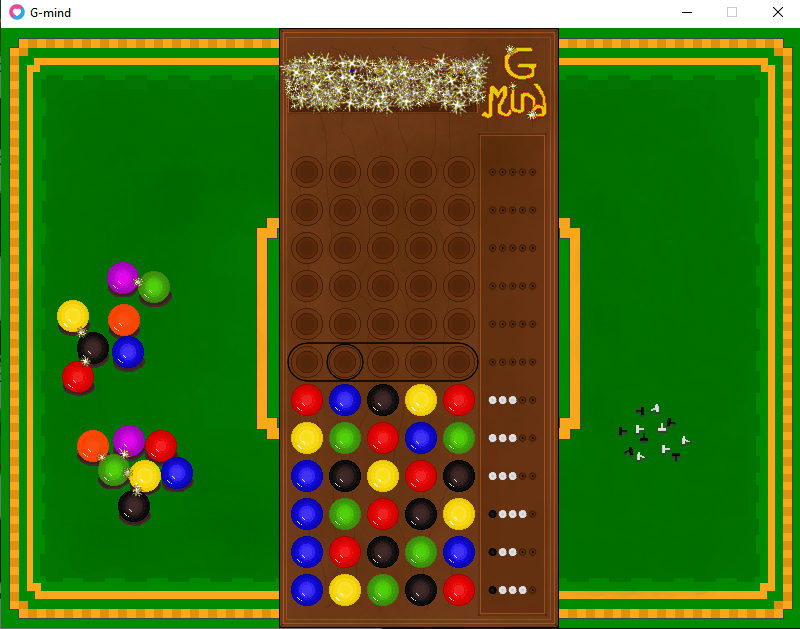 Si vous êtes du genre a ne pas aimer perdre vous pouvez à tout moment demander une partie de la solution. une couleur et son emplacement vous sera alors révélé a chaque demande. Lorsque vous reprenez la partie, la solution est recaché, une nouvelle demande vous en révèlera un peut plus et ainsi de suite.
Le jeux se joue au clavier.
Comment jouer:
- Flèches gauche et droite ---) Change de pion.
- Flèches haut et bas ---) Change la couleur du pion.
- Enter ---) Valide votre tour.

- S ---) Solution. Révèle un pion a chaque fois.
bon jeu.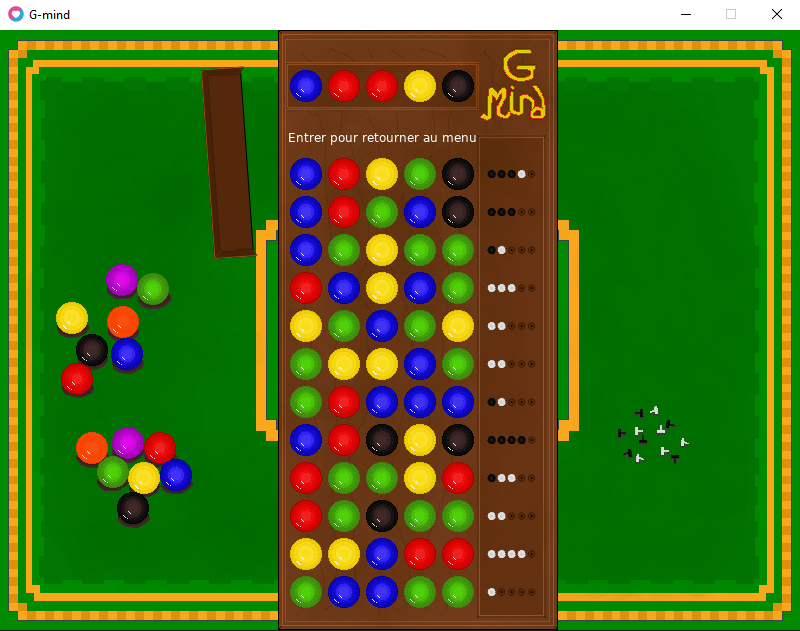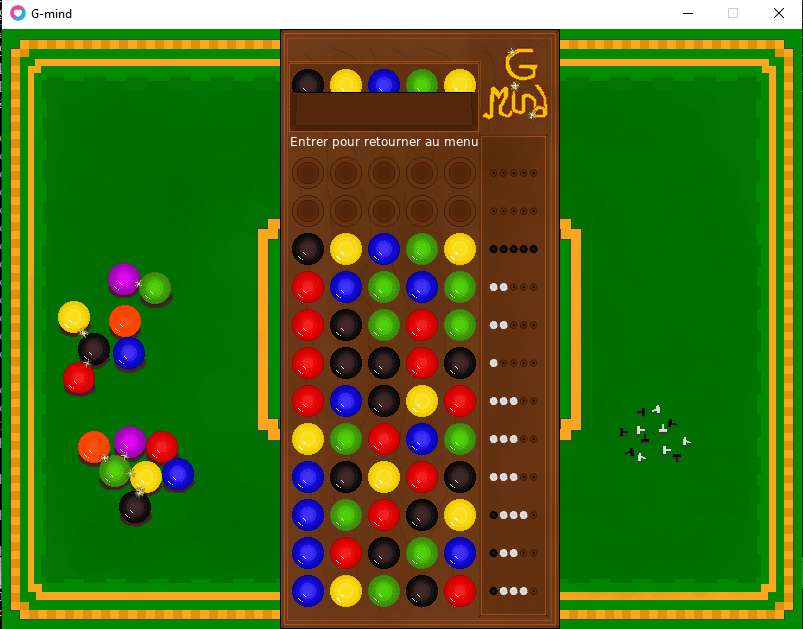 Jeu : Fait maison Lua, Love2d
Graphisme : Fait maison
Son : LDD sur le site Gamecodeur
GOOGLE TRANSLATE:

Gamecoder project 2022.
It's a mastermind. You have 5 colored pawns to replace in the correct order, each time one of them is correctly placed, a black confirmation pawn will appear, if it is incorrectly placed it will be a white one.
The game offers 3 difficulty levels and is played over 12 rounds. Easy level: 5 colors, Medium level: 6 colors, Difficult level; 7 colors.
If you're the type who doesn't like to lose, you can ask for part of the solution at any time. a color and its location will then be revealed to you at each request. When you resume the game, the solution is hidden, a new request will reveal a bit more and so on.
The game is played on the keyboard.
How to play:
- Left and right arrows ---) Change pawn.
- Up and down arrows ---) Changes the color of the pawn.
- Enter ---) Validate your turn.
- S ---) Workaround. Reveal a pawn each time.
good game.
Game: Homemade Lua, Love2d
Graphics: Homemade
Sound: LDD on Gamecodeur website
To play the game, download the file, and open G-mind.exe.
Install instructions
Pour jouer au jeu, télécharger le fichier G-mind.zip, double cliquer dessus, choisir extraire et ouvrez G-mind.exe.
Bon jeu.
GOOGLE TRANSLATE:
To play the game, download the G-mind.zip file, double click on it, choose extract and open G-mind.exe.
Good game.